Since I've been blogging again, I have had the opportunity to read more blogs. This morning on the top of my feed pile was this little article from Pat Archbold from the NCR Blogs titled
"Archbishop: Bloggers not Catholic"
. Needless to say as a Catholic Blogger, it got me scratching my head. I was hesitant, to say the least, to believe what I was reading. Every part of me wanted to scream at the computer that social media and outlets like blogs are the forefront of the current push of the New Evangelization. That being said, I needed to read the homily that was quoted.
Thanks to Catholicmemes. com
This homily comes from the Archbishop of Westminster, Archbishop Vincent Nichols'
Mass for Pope Francis
from April 10, 2013. Please read it in it's entirety, I found it wonderfully insightful, including today's topic.
One of my favorite quotes from this homily is as follows "Pope Francis is telling us, more than once, that he sees the Church at its best when it is outward looking, going forth to meet people in the specific circumstances of their lives. Memorably he prompted us priests to go out and come back 'smelling like our sheep!'"
As a faithful Church, we need to be interpersonal in our relationships with those that we meet and not be stuck to our same pew, time and quick handshakes at the sign of peace. Pope Francis has been wonderful in this respect through his way of handling his personal affairs. This has been evident since day one of his Papacy. We have a Pope who remembers who he serves and that the best place to serve is at their side.
At the same time, I am not a priest, but I work with teens. The "sheep" I work with smell like they've been drenched in Axe, Old Spice or other cologne/perfume with a heavy dose of insecurity and coming into their own in a highly digitized world where the most "liked" piece of anything becomes law. I serve them, so I spend a lot of time working with them personally and through outlets such as Facebook, Twitter, blogs, Google+, and finding the hazards of places like Snapchat and Pheed. As an adult, it is a scary place, as a teen, all of these places look like a slice of freedom.
But at the same time, with freedom comes immense responsibility. There are many teens who cannot yet grasp that. That's when we hear of cyber bullying, trolling and using these media outlets for pornographic messages of themselves. Please note that not all teens are doing this, but this is a staggering upward trend.
Archbishop Vincent Nichols continues by saying;
He has said that when the Church fails to look outward, then it is 'self referential' preoccupied with itself. Then, he added, 'inadvertently she believes she has her own light, and is not dependant totally on Christ for receiving and reflecting his light. If this happens, then the Church (those in the Church) live to give glory only to one another and not to the rest of the world.'
Yesterday, I mentioned how through loving others I see God working through them and with them in their lives, regardless of their knowledge of God. When we fail to love, through sin, we stop reflecting Christ's light and look at each other as a commodity or as an object.
Archbishop Nichols, after speaking about Peter returning to Christ says this:
The Church must be a community rooted in the love of the Lord.
Pope Francis understands this in practical terms. He has already identified two kinds of behavior that destroy love in the Church. They are complaining and gossiping. He is a practical man. He knows that we live in a society in which complaining and gossip is a standard fare. They sell newspapers and attract us to blogs because we love hear complaints and to read gossip.
But Pope Francis is clear: they should have no place in the Church.
From reading this section of his homily I am momentarily confused. Because of the article from Pat Archbold I am already predisposed to read this as newspapers and blogs should not exist. As a Catholic who blogs, I should take offense and write something angry. On the other hand, within the context of the entire homily, I read that Archbishop Nichols meant that complaining and gossiping have no place in the Church. I don't know about you but we could add things like, spamming, trolling, enticing arguments, and using demeaning words and phrases to what we do as a digital culture.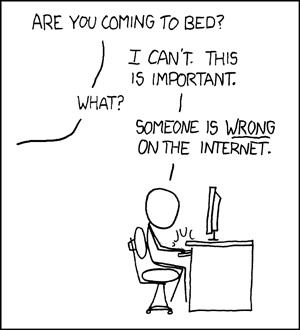 http://xkcd.com/386/
For example, if you have ever read Youtube comments or many comment sections of mainstream blogs, you will almost always find someone who tries to anger someone else. They often succeed and the responses are often ridiculous. These comments would rarely be said if a person had been talking face to face with another.
Internet outlets have the ability to unite and divide people very quickly. People, and I'm guilty about this too, become so polarized with a topic, they believe that the author is speaking only to them and they have to defend a position. The above comic from
www.xkcd.com
always makes me chuckle. I know people like that character; I have occasionally been that character. At the same time, I know that I can choose to engage and "defend" or I can take a breath, think about what I've read, and thoughtfully engage.
Above all, I cannot pretend to know what Archbishop Nichols intended with his homily. From the date, topic, and tone of the overall message, I can infer that he is encouraging we as the Catholic faithful to engage more fully in our faith and communities. To get dirty and work amongst the "sheep" we encounter. It so happens that most of the people I encounter are tech savvy, internet based, and ready to show they have a voice in the world. So, there I will be, right alongside of them, tears, triumphs and smells included.